3D Printing Pro
Wiiboox Sweetin Chocolate/Food 3D Printer - Available NOW with FREE Delivery!
WiiBoox Sweetin Chocolate/Food 3D Printer
Create More Than Sweet
WiibooxSweetin 3D Chocolate Printer is an innovative application of advanced 3D printing technology in the food industry which can lead you into a new business model.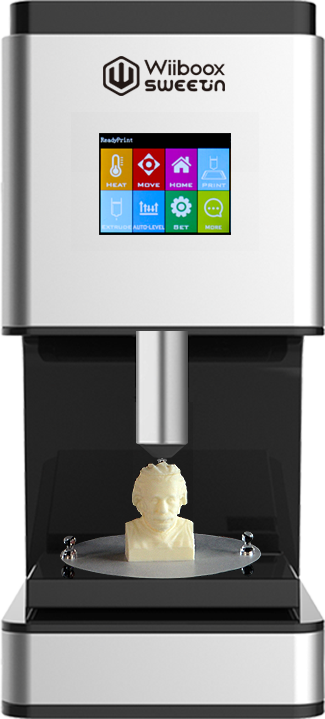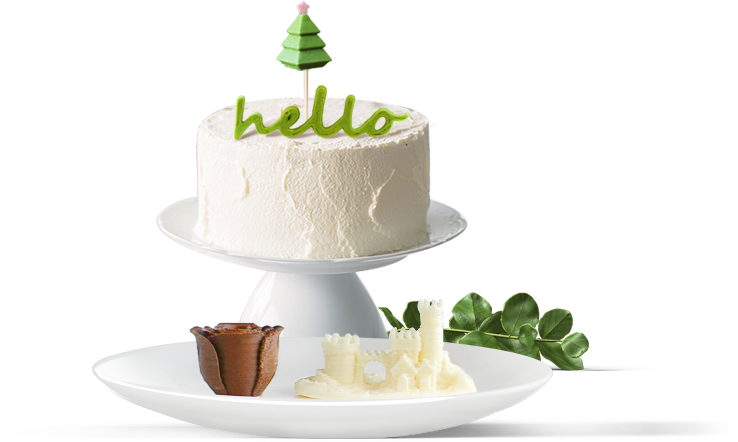 Easy Operation
Free and easy-to-use downloadable software
It's super easy to use! Just load the 3d model files into the machine and start printing. Users can control the process of printing in real time with the full color touch screen. It's a magic chocolate converter, turn all your creative DIY ideas into delicious, cool and funny treats!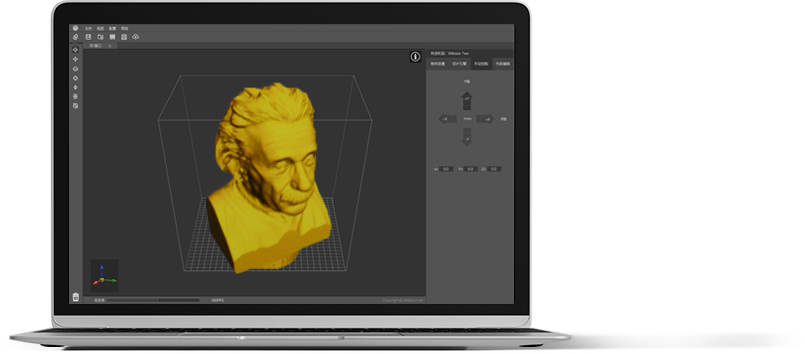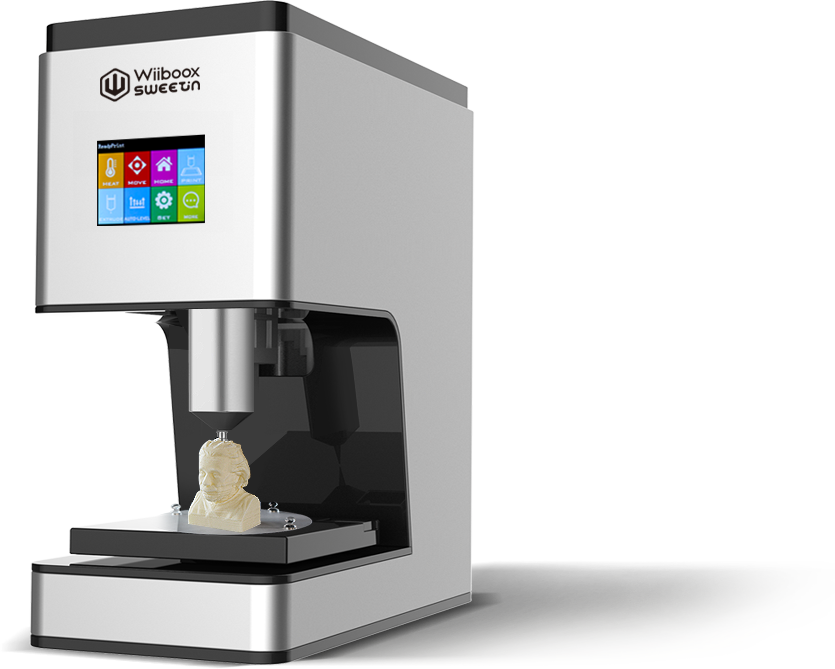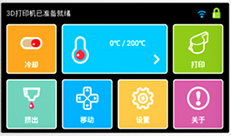 Display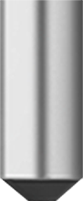 Medical grade
reusable tube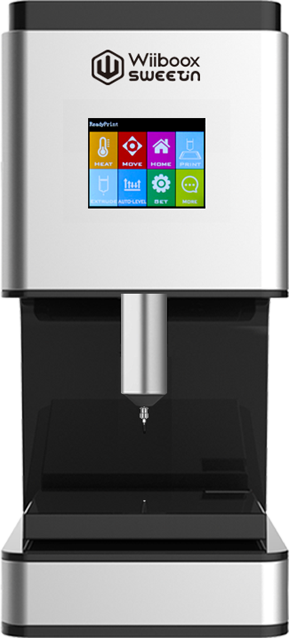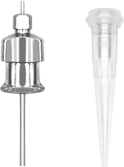 Pinhead

Real-time Control
Due to real-time temperature control, every little change is adjustable and controllable. This not only makes your creation more exquisite, but also protects the nutritional ingredients from damage.
Auto leveling
The first layer is the foundation of any good 3D print. WiibooxSweetin calibrates itself automatically to save you time and to guarantee a perfect foundation for every print.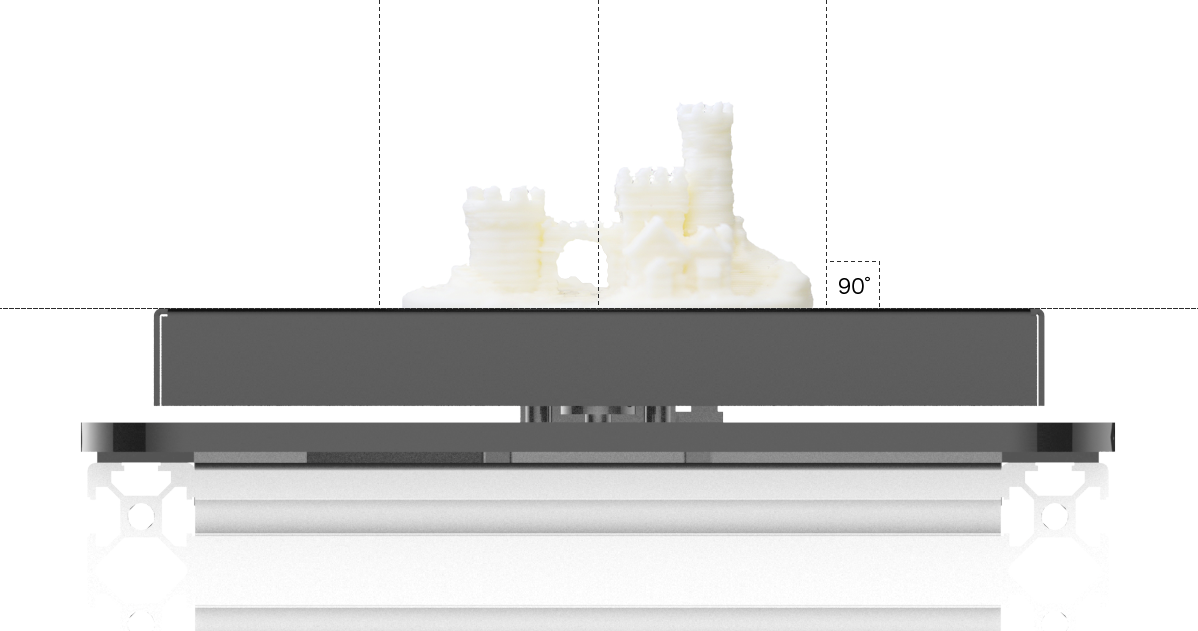 Specs and printable mediums.
| | |
| --- | --- |
| Dimension | 192mm*380mm*420mm |
| Net weight | 10kg |
| Power | 50W |
| Printing Size | 90mm x 90mm x 70mm/110mm x 110mm x 75mm |
| Positioning Accuracy | XY Axis:0.1/100mm Z Axis:0.01/100mm E Axis:0.01/100mm |
| Nozzle Diameter | 0.4mm—1.55mm |
| Nozzle Quantity | 1 |
| Printing Speed | 15-70mm/s |
| File Formats | STL/G-code |
| Printing Ingredients | Usual Pinhead Size(mm) | Extrusion Head Temperature(℃) | Default Speed (%) | Printing Maximum Height(cm) | Pumpback Volume (mm) | Retracting Speed (mm/s) |
| --- | --- | --- | --- | --- | --- | --- |
| Dark Chocolate | 0.6-0.84 | 37 | 100 | 8.5 | 2 | 50 |
| White Chocolate | 0.6-0.84 | 33 | 100 | 8.5 | 2 | 50 |
| Biscuits | 0.84 | Normal Temperature | 100 | 7 | 2 | 50 |
| Creamy Candy | 0.84 | Normal Temperature(Winter35) | 100 | 10 | 2 | 50 |
| Mashed Potato | 0.6-0.84 | Normal Temperature | 100 | 3 | 2 | 50 |
| Jam | 0.84 | Normal Temperature | 100 | 9 | 2 | 50 |
| Minced Meat | 0.84 | Normal Temperature | 100 | 9 | 2 | 50 |
---
More from this collection